Motor Sports Betting | Auto Racing Betting Lines
Drivers Championship - Winner
Formula 1 2024 - Drivers Championship - Winner
Drivers Championship - Winner
Constructors Championship - Winner
Formula 1 2024 - Constructors Championship - Winner
Constructors Championship - Winner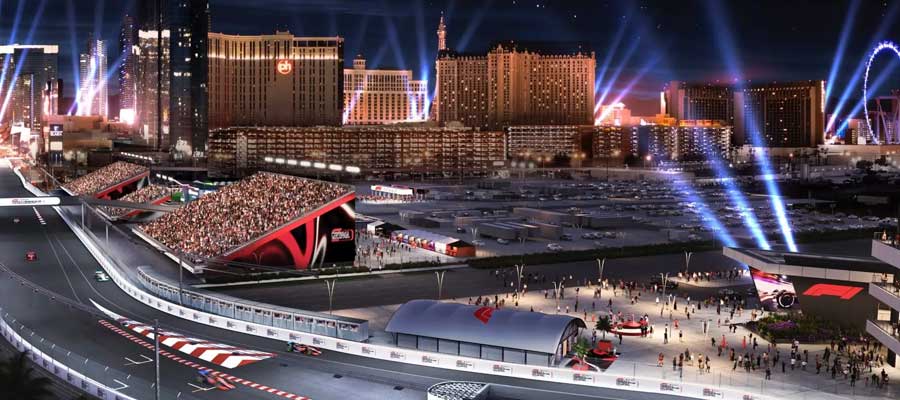 The penultimate race in the 2023 Formula 1 season comes from Las Vegas, running on Saturday night. The track action starts on Thursday evening, as Free Practices 1 and 2 will take place – and the second session starts at midnight. Qualifying starts at midnight local time on Friday. The race itself is set for 10:00 pm local time on Saturday night.
Read More
---
How To Bet Auto Racing Odds
While auto racing events such as NASCAR and Formula 1 are not as popular as the NFL or College Football, they provide online sportsbetting fans with multiple chances to get on the action and win some cash on the side. Racing fans have several ways to place bets, but perhaps the most popular bets you can place on these events are the following:
Odds to Win
The easiest and most popular bet in Auto Racing is to put your money on a specific driver to win an event. Most sites that offer Auto Racing Odds have "Odds to Win" listed, all you need to do is to pick the driver you like the most and place your bet. The payout or return for the bet will depend on the odds given to each driver. For example, let's pretend that Austin Dillon is listed as a 6/1 (+600) favorite in the above table to win the Daytona 500. If you wager $100 on Dillon and he wins the race then you would win $600 ($100 x 5). At the end you would collect $700, which includes your win plus your original bet of $100.
Matchups
The objective of this bet is to pick a driver to finish ahead of another driver. In other words, to win a bet, you need your pick to finish the race higher than the opposing driver in the matchup.
In a similar fashion to other sports, each matchup has its own money line indicating the favorite and the underdog. Let's say that we have a matchup featuring Tanner Berryhill (-145) and Mike Bliss (+105). Berryhill is the favorite and Bliss is the dog. In this particular matchup, bettors will have to risk $145 to win $100 on Berryhill. On the other hand, those betting $100 on Bliss would earn a payout of $105 if Bliss finishes ahead of Berryhill.
Auto Racing News
Everything you need to know before betting on motorsports! Get a head start with our weekly analysis on NASCAR, Formula 1, Formula E, MotoGP, WRC Rally and IndyCar. The drivers who are favorites and their odds are considered to complement your betting strategies. Bet on motorsports!
NASCAR Cup Series
Cook Out Southern 500 | Coke Zero Sugar 400 | Go Bowling at the Glen | Verizon 200 | FireKeepers Casino 400 | Cook Out 400 | HighPoint.com 400 | Crayon 301 | Quaker State 400 |NASCAR Cup Series Grant Park 220 | Ally 400 | Toyota Save Mart 350 | Enjoy Illinois 300 | Coca-Cola 600 | All-Star Open / All-Star Race | Goodyear 400 | AdventHealth 400 | Würth 400 | GEICO 500 | NOCO 400 | Food City Dirt Race | Toyota Owners 400 | EchoPark Automotive Grand Prix | Ambetter Health 400 | United Rentals Work United 500 | Pennzoil 400 | Pala Casino 400 | Daytona 500 | Busch Light Clash at the Coliseum
Who are the Favorites to Win NASCAR Cup Series? Odds to Win Driver's Championship 2023: 8 Races remain | Drivers Odds to Win Cup Series | Odds to Win Driver's Championship 2023: Early Favorites
NASCAR Truck Series
Rackley Roofing 200 | Toyota 200 | Education Lottery 200 Preview | The Tyson 250 | Victoria's Voice Foundation 200 | NextEra Energy 250
NASCAR Xfinity Series
Explore the Pocono Mountains 225 | Ambetter Health 200 | Alsco Uniforms 250 | The Loop 121 | ToyotaCare 250 | RAPTOR King of Tough 250 | United Rentals 200 | Production Alliance 300
MotoGP
MotoGP Italy | MotoGP Portugal
More Auto Racing News
Superbike WorldSBK Italian Round | London E-Prix | Sonsio Grand Prix | F1 Canadian Grand Prix | Italia Sardegna WRC | Indy 500 | F1 Saudi Arabia Grand Prix | Hyderabad E-Prix India | Superbike WorldSBK Italian Round
---
Online Sportsbook | Online Casino | Online Racebook | Online Sportsbook Bonuses | Online Sportsbook News
---