NFL NFC Championship Odds - Bet Football Lines
NFL - NFC Conference - Winner
NFL - Futures - NFL - NFC Conference - Winner
NFL - NFC Conference - Winner
NFL - NFC Division East - Winner (reg. season)
NFL - Futures - NFL - NFC Division East - Winner (reg. season)
NFL - NFC Division East - Winner (reg. season)
NFL - NFC Division North - Winner (reg. season)
NFL - Futures - NFL - NFC Division North - Winner (reg. season)
NFL - NFC Division North - Winner (reg. season)
NFL - NFC Division South - Winner (reg. season)
NFL - Futures - NFL - NFC Division South - Winner (reg. season)
NFL - NFC Division South - Winner (reg. season)
NFL - NFC Division West - Winner (reg. season)
NFL - Futures - NFL - NFC Division West - Winner (reg. season)
NFL - NFC Division West - Winner (reg. season)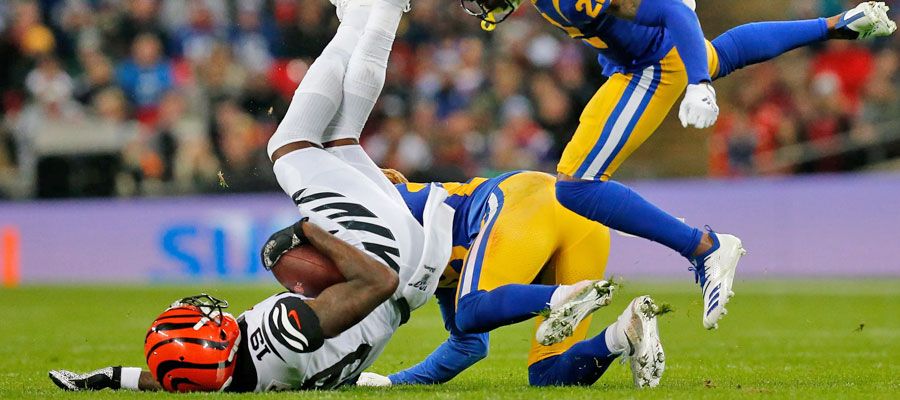 For the second straight season, the Cincinnati Bengals have started a regular season with an 0-2 slate after advancing at least to the AFC Championship the prior season. This year, the Bengals got smashed in Cleveland, 24-3, to start the season, and then they came home to have a comeback against the Baltimore Ravens fall just short, 27-24.
Read More
---
NFL Odds & Betting Lines | NFC Championship Lines
Bet on the NFC Championship odds to win the NFL season, the annual championship game of the National Football Conference (AFC) in the NFL.
Xbet.ag has the top lines so you can Bet on the NFL throughout the whole season plus you can bet the odds to win the National Football League. So remember, if you are looking to win big in American Football, Xbet has the betting odds and betting predictions for each game.
Looking for competitive point spread for NFL games this week? Xbet has the lines
---
NFL Odds this Week | Bet American Football Betting Odds
Xbet has betting lines to cover your needs throughout the whole season.
---