Horse Racing Specials - Bet Horse Racing Betting Lines
BREEDERS CUP CLASSIC - ODDS TO WIN | HORSE RACING - Nov 5
BREEDERS CUP CLASSIC - ODDS TO WIN | HORSE RACING - Nov 5
Wager cut off: 2022 5th November 6:00 PM
Breeders Cup Classic - Odds to Win
BREEDERS CUP CLASSIC - ODDS TO WIN | HORSE RACING - Nov 5
PREAKNESS STAKES - ODDS TO WIN | HORSE RACING - May 21
PREAKNESS STAKES - ODDS TO WIN | HORSE RACING - May 21
Wager cut off: 2022 21st May 6:00 PM
Preakness Stakes - To Win
PREAKNESS STAKES - ODDS TO WIN | HORSE RACING - May 21
Add your selections to the Bet Slip
and place your wager to start winning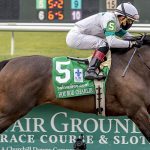 The 2021 Kentucky Derby is set for May 1, from Churchill Downs, and the track signage is changing to reflect the 147th edition of one of the most venerable events in all of sport. For sports betting enthusiasts, this is one of the most popular events of the year and is also the first race in horse racing's Triple Crown.
Read More
Ready for some extra action with XBet.ag Horseracing Specials?
At Xbet.ag we have your horsebetting action covered! We offer players multiple opportunities to cash in and expand their chances to win by betting on a wide range selection of special horseracing props for world class events, including the Kentucky Derby, Preakness Stakes, Belmont Stakes and the annual Breeders Cup. What are you waiting for? Sign up for a free account now and grant yourself access to our special selection of horsebetting props and odds!